Which Reiki Session is best for me?

Which session should I choose?
Reiki will do its work for your highest good in the area(s) of your life or body where you need healing the most. I always set an intention asking for Reiki to keep doing its healing work after our sessions, for as long as you need it.  
This said, the time you'll receive Reiki basically depends on how much healing you feel you need, how much Reiki you are willing to receive, or the severity of the issues you wish to address. 
15 minutes may give you the same results than a 30 min session, only that maybe 30mins of reiki will help heal your main concern, plus others. 
The following are only suggested common concerns that can be addressed in each session, but it all depends on your rate of healing and the magnitude of the issue.
15 MIN DISTANCE REIKI
- Good for people new to Reiki who just want to test how it works and feels. 
- For complex situations or difficulties (past, present, future) for which you need clarity or peace of mind for yourself and/or the parts involved. Reiki will work for the best possible outcome. This could be a future exam/test, a legal matter, a job interview, doctor visit, meeting, or any imminent or current event that worries you.
- It also helps with minor, uncomfortable physical issues, such as headaches, digestion.
- A good pick me up for an energy boost to get you through the day.
30 MIN DISTANCE REIKI. 
- Quick scan and healing focused on unbalanced chakras or energy blocks.
- Also good for more focused, intense pain: migraines, back aches, dental, joints, etc.
- Immune system booster. 
- Minor surgery recovery
- General relaxation, restorative sleep. 
- Emotional recovery (stress, depression, anxiety)
60 MIN DISTANCE REIKI
- Full body Reiki. The energetic version of a full body massage. 
- Complete chakra alignment/balancing
- Deep relaxation, restorative sleep. 
- A more long-lasting energy boost. 
- Major surgery recovery.
- Emotional recovery from more severe, long-term issues (grief, ptsd, cptsd, emotional disorders)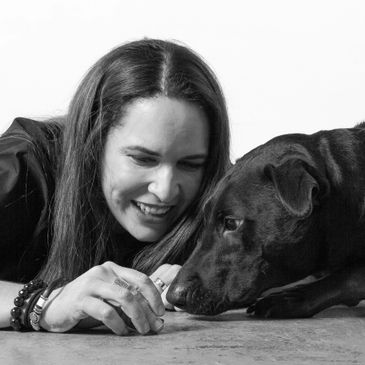 My Reiki Background
I began studying Reiki in 2020, after losing my two dogs to cancer and realizing during their illnesses that I was able to draw energy in from the Earth and transmit it out to them through my hands. 
Cassidy and Shooter are the very reason I am making of Reiki my new career path.
I am currently a Master in Holy Fire® III Reiki, and I  teach at levels 1 through 3 (master) of Reiki. 
I am still continuing my education under 2  teachers: Karen Harrison, with the Holy Fire III Reiki lineage, and Kathleen Prasad with her Animal Reiki Source Academy. 
I am also a professional member of The International Center of Reiki Training (ICRT).
Additionally, I am an Advanced Akashic Records practitioner, which I don't yet  offer in my practice until I gain more proficiency. Any volunteers for free readings are welcome!.  
My original background is in Geology and Engineering, which I worked on for 19 years. However, this scientific background has helped me greatly in marrying both the metaphysical and the science aspects of Energy work....as well as having  expertise in  identifying and selecting authentic high quality crystals and stones :)